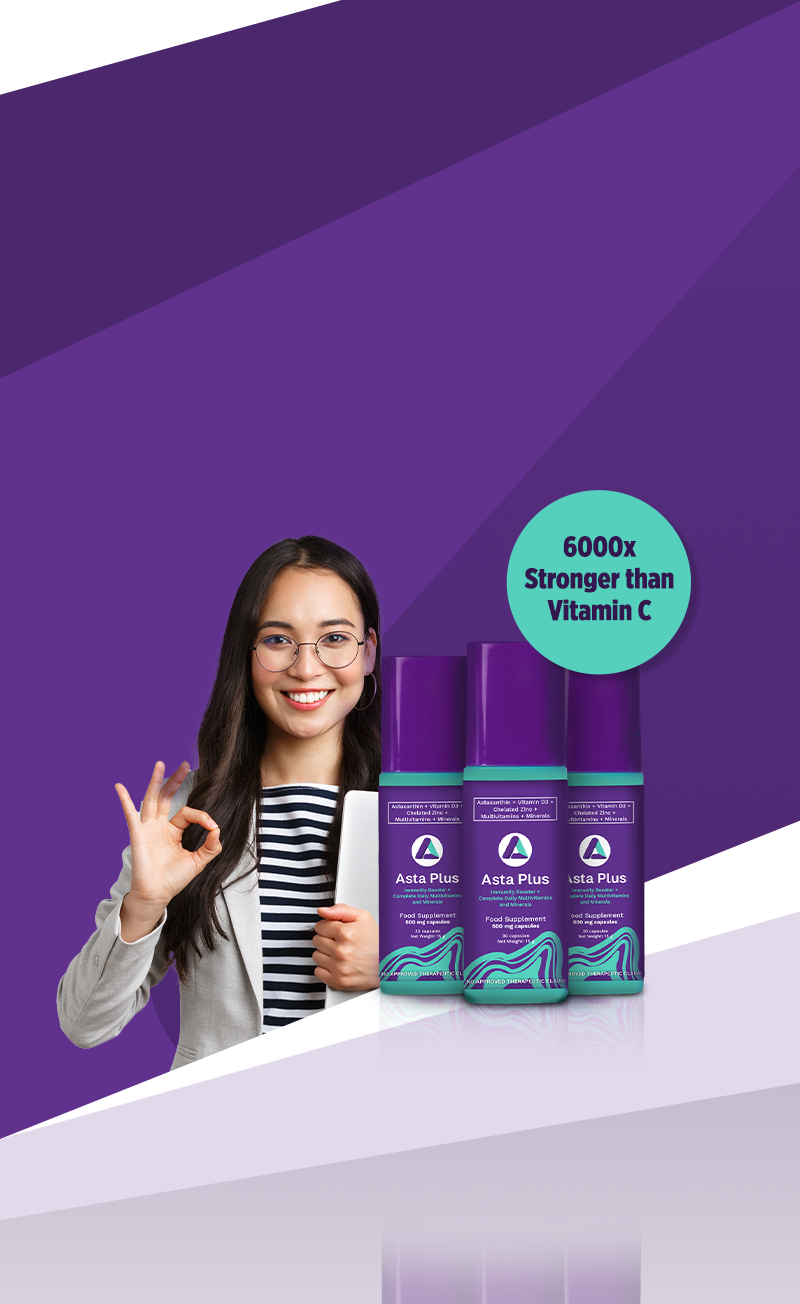 Kaya Everyday with Asta Plus!
Astaxanthin + Vitamin D3 + Chelated Zinc + Multivitamins + Minerals
Plus in protection, plus in immunity, each capsule contains premium quality ingredients to ensure holistic body function and defense. Asta Plus has all the nourishment needed to safeguard the body from harmful viruses and bacteria.
Asta Plus utilizes advanced innovation and potent ingredients
Astaxanthin
Nature's most powerful antioxidant and 6,000 times stronger than Vitamin C, astaxanthin boosts immune system response for unbeatable protection and faster recovery. Astaxanthin is essential to combat free radicals and oxidative stress on cells.
Chelated Zinc
Chelated zinc helps the body process zinc easily and maximize its benefits, which supports immune system defense, protein production in the body and wound-healing function.
Vitamin D3
Vitamin D3 strengthens brain, nervous and immune system function. It acts as a protection against a range of diseases such as Type 1 Diabetes and flu.
Protect your Overall Health and Well-being with Asta Plus
Complete with vitamins and minerals, Asta Plus provides holistic body protection and benefits
Repairs damaged cells
Manages High Cholesterol
Improves Heart Health
Protects Against Bacterial Inflammation
Improves Blood Pressure
Boosts Physical Performance
Protects skin from UV exposure
Promotes Nerve Cell Regeneration
Get an A+ Lifestyle, Choose Asta+ today!
ASTA PLUS Immunity Booster + Complete Daily Multivitamins & Minerals
6000x Stronger than Vitamin C
₱520.00
Shop Now